Bestiary Entry 035:
Edit
Shizuka's Bestiary:
Edit
"A source of light during the night used to be a luxury that most people couldn't afford. That's why the spirits of those who snuck into other's houses to steal oil became these Youkai, I guess. They tried so hard to act normal and unsuspicious in life that their faces ended up like that. The oil that these youkai produce can be used in lanterns or food without problems. There are rumors that they secretly make an even higher grade of oil, which people all over the country travel to obtain. Maybe I could ask one to share some with me next time?"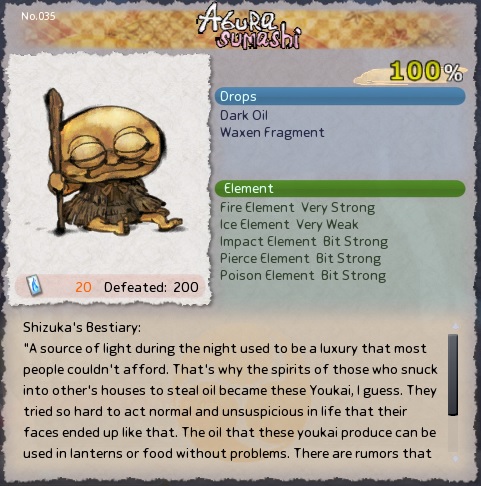 Variation of AburasumashiEdit
Aburasumashi
Edit
Nature: Spirit
Dungeon: Former Ooyama Household: Guest Room, Three Deity Cave 1F, Suzaku Mansion 1F, Honomusubi Cavern, Inaki Woods, Momiji Well, Old Hokurikudo 2nd Line, Old Hokurikudo 3rd Line, Jellyfish Cave Entrance, Marunouchi Sewer Pipe #3, Mine of Boukyakut 1F, House of Hinawa Tatami room, Suguchi Cave, Assault! Visul Odin, Monday - Defiled Orb of Blades
Aramitama: A Chance Meeting Stage 35, Stage 36, Juncture Stage 26
Wind Aburasumashi
Edit
Other VariationEdit
Nature: Spirit
Aramitama: 5th Aramitama 無明
Community content is available under
CC-BY-SA
unless otherwise noted.