Baal Buster - Severance
Category
Axe

Level Requirement

108

Rarity
Gold

Attack Range

7389 ~ 9853
(Grade 100)
Base Durability
1500
Enhanceable?
Yes
Innate Effects
■Impact Element+20
■Wind Element+30
■Mountain Element-10
■Poison Element-5
■Pow+3
■Critical+5
■P. Atk Spd+7
■Rank 5+ Axe Skill Force+10%
Repairable?
Yes
Innate Skills
None
Tradable?
Yes
Obtained From
None
Recipe From

♦Ephemeral Grove - Oboroguruma
♦Waninashi Island - Huge Gaki
All Difficulty (1-5 players)

Reward From
None
Selling Price
349,980
Crafted From
►Baal Buster +30
►Cereluean Gem x1
►Scarlet Gem x1
Quest Reward
None
Can Be Smithed Into
♦L. Garma Killma
"An axe containing just a smidgen of a God's powers. It's said that there's nothing this axe can't demolish. Let's test it out on some rocks or something later."
Weapon Animation
Edit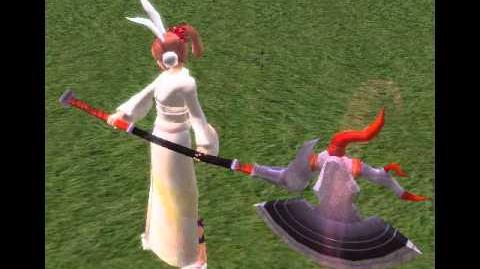 Community content is available under
CC-BY-SA
unless otherwise noted.