D3 CROSS
Category
Twin Sword

Level Requirement

108

Rarity
Gold

Attack Range

6558 ~ 6904
(Grade 100)
Base Durability
1500
Enhanceable?
Yes
Innate Effects
■Lightning Element+40
■Slice Element+40
■Dex+24
Repairable?
Yes
Innate Skills
●Ougi Festering - Violet Strikes - VI
Tradable?
Yes
Obtained From
None
Recipe From

Lamenting River: Headwaters All Difficulty (1-5 players)

Reward From
None
Selling Price
666,666
Crafted From
►D3 STAR +20
►Shivering Wind x2
►Flames of Rebellion x1
►Spellbook of Rage x1

Quest Reward
None
Can Be Smithed Into
♦L. D3
"Twin swords made from Satan's sharp claws, able to pierce even steel. Keep slashing away with this and no Youkai will stand up to it, but go easy on the weaker ones, would you?"
Weapon Animation
Edit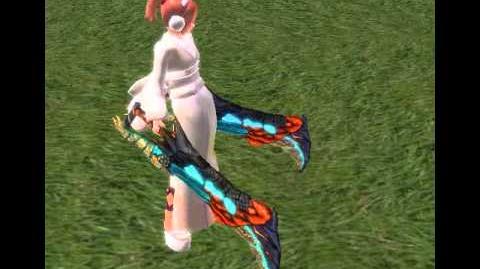 Community content is available under
CC-BY-SA
unless otherwise noted.