End of Days CROSS
Category
Sword

Level Requirement

108

Rarity
Gold

Attack Range

6372 ~ 7010
(Grade 100)
Base Durability
1500
Enhanceable?
Yes
Innate Effects
■Lightning Element+40
■Slice Element+40
■Pow+24
Repairable?
Yes
Innate Skills
●Ougi Paradise of Fallen Lightning - VI
Tradable?
Yes
Obtained From
None
Recipe From

Lamenting River: Headwaters All Difficulty (1-5 players)

Reward From
None
Selling Price
666,666
Crafted From
►End of Days STAR +20
►Bloodstained Key x2
►Flames of Rebellion x1
►Spellbook of Rage x1

Quest Reward
None
Can Be Smithed Into
♦L. End of Days
"Smeared with the foul ichors of Satan, this is one scary sword! The fluid that drips from the blade dissolves what ever it touches, so don't swing this around everywhere!"
Weapon Animation
Edit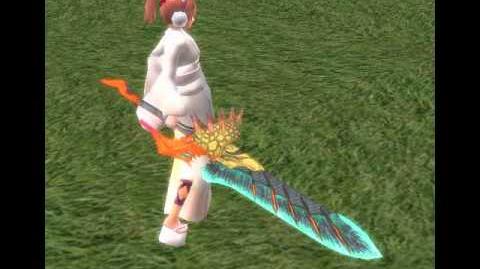 Community content is available under
CC-BY-SA
unless otherwise noted.