Bestiary Entry 006:Edit
Shizuka's Bestiary:
Edit
"For some worldly attachment or another, the bones of warriors or travelers who died on the roadside are animated by strong dying wishes, causing them to rise from their graves and become youkai. As there's nothing left in their skulls, they tend to be very forgetful and act on instinct. While they seem pitiful, clanking around like they do, they're still youkai. Helping them achieve eternal peace isn't necessarily a bad thing."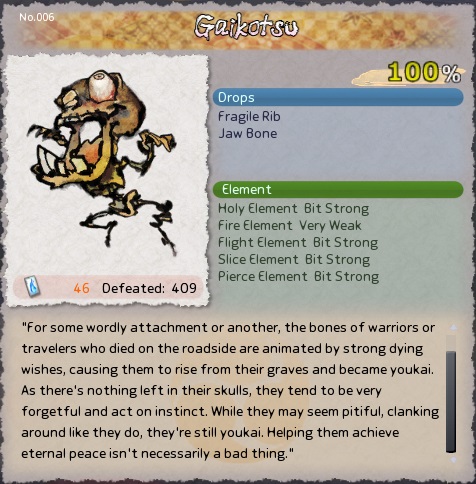 Variation of GaikotsuEdit
Nature: Soul
Dungeon: Onigashima Training Grounds, Den of Karma, Cave of Dreams, Cave of Screams, Iwanaga Cavern, Chinji Cavern, Byakkou Cavern, Cave of Nakisawame, Ooikazuchi Cavern, Well of Five Virtues, Kyoukotsu's Lair, Den of Needles, Singlesword Forest, Secret Water Garden, Bamboo Thicket Well, Old Hokurikudo 1st Line, Gouriki's Meeting Point, Ephemeral Grove, Houri Island, Lacus Mortis, Gennai's Laboratory, Assault! Mystery Arms Dealer & Puppet Steward, Arcane Suzaku Mansion, はろうぃんらんど
Aramitama: A Chance Meeting Stage 16, Stage 26, Stage 51
Frost Gaikotsu
Edit
Nature: Soul
Aramitama: Juncture Stage 20, Stage 54, Stage 67
Chibi Kyoukotsu
Edit
Nature: Soul
Location: None
Other VariationEdit
Halloween Gaikotsu
Edit
Nature: Soul
Location: None
Community content is available under
CC-BY-SA
unless otherwise noted.