"It's said that the Gama are form the frogs take when enraged at being woken up during their hibernation. They attack their former natural predators such as snakes, birds, and even rabbits and eat them. The fat they absorb from their prey becomes the fuel for their fire breath. A Gama's flame is incredibly hard to put out once lit, try not to get hit by it!"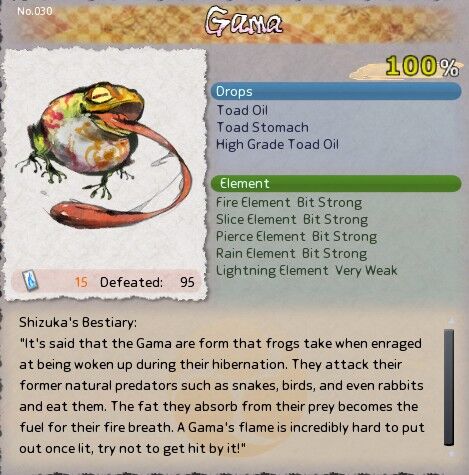 Nature: Beast
Dungeon: Hoderi Shrine 1F, Hoori Shrine, Sakurajima Depths 2F, Seiryuu Grotto 1F, Well of Five Virtues, Shinoda Forest, Bare Hand Cave, Nether Bare Hand Cave 1F, Nether Singlesword Forest 1F, Nether Sekiyou Forest, Suisen Forest, Momiji Well, Old Hokurikudo 2nd Line, Old Hokurikudo 3rd Line, Anka Forest Enterence, Wednesday - Defiled Orb of Ice Crystal, 闇冥の森 奥地
Field: Ginza Sewers, Hibiya Sewers, Hokurikudo 3rd Line, Hokurikudo 4th Line, Oosumi Plains North, Oosumi Plains South, Sakurajima Cave
Aramitama: A Chance Meeting Stage 32, Stage 52, Stage 92, Juncture Stage 9, Stage 50
Community content is available under
CC-BY-SA
unless otherwise noted.