Bestiary Entry 015:Edit
Shizuka's Bestiary:
Edit
"These youkai love scaring people, making them quite the nuisance. They always tend to appear when you're trying to sleep or when you're heading home late at night. If I saw a face like that come out of the darkness, I think I'd have more than a little trouble standing back up. They just can't conceal their glee when they manage to scare someone, making them seem kind of childish in retrospect. They need to be taught a severe lesson that their little pranks could have serious effects on people."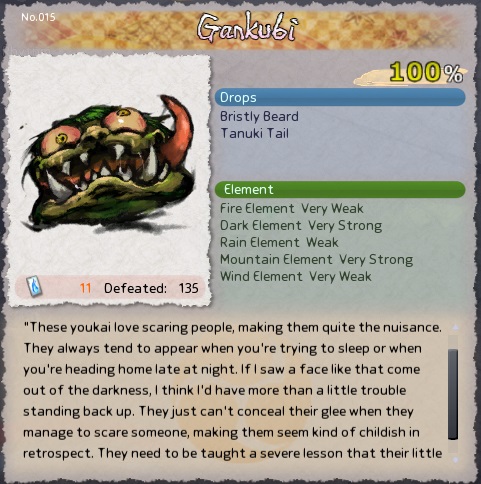 Variation of GankubiEdit
Nature: Spirit
Dungeon: Kishinden, Hoori Shrine, Three Deity Cave 2F, Genbu Temple 2F, Ooikazuchi Cavern 2F, Oonaobi Shrine Entrance, Room of Rites, Sekiyou Forest, Inaki Woods, Burial Mound of the Preserved, Nether Sekiyou Forest, Central Koshi-no-Shiraen Entrance, Grand Forest, Yamanba Villa, Mine of Delusions, Ephemeral Grove 1F, Mine of Boukyakut 1F, Anka Forest Enterence, Assault! Nightshade Nyarlethotep, Woods of Shigure, Gennai's Laboratory, Assault! Mystery Arms Dealer & Puppet Steward
Aramitama: Daybreak, A Chance Meeting Stage 71, Juncture Stage 8
Rain Gankubi
Edit
Other VariationEdit
Huge Gankubi
Edit
Community content is available under
CC-BY-SA
unless otherwise noted.