Garma Killma CROSS
Category
Axe

Level Requirement

108

Rarity
Gold

Attack Range

7618 ~ 10158
(Grade 100)
Base Durability
1500
Enhanceable?
Yes
Innate Effects
■Lightning Element+40
■Impact Element+40
■Pow+24
Repairable?
Yes
Innate Skills
●Ougi Purple Lightning Rain - VI
Tradable?
Yes
Obtained From
None
Recipe From

Lamenting River: Headwaters All Difficulty (1-5 players)

Reward From
None
Selling Price
666,666
Crafted From
►Garma Killma STAR +20
►Bloodstained Key x1
►Demon Overlord's Chaos x2
►Spellbook of Rage x1

Quest Reward
None
Can Be Smithed Into
♦L. Garma Killma
"This uniquely shaped battle axe is made using part of Satan's jaw! I'm not really sure something this shape can even be called an axe, but... Anyways, this is something no normal person could wield!"
Weapon Animation
Edit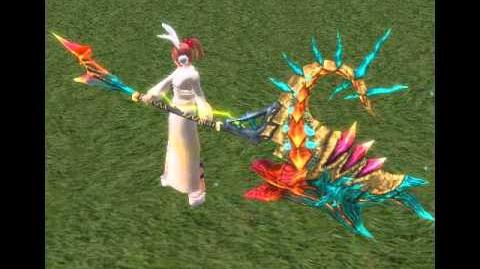 Community content is available under
CC-BY-SA
unless otherwise noted.