"A youkai often seen chasing bugs on the ground or running around bushes. When I was small, I followed one around for a while but it looked like it was wandering around aimlessly. They usually never leave grassy areas, but sometimes you'll see them walking around in town. Whether it's because humans took over their homes or they just grew up, I don't know. It was so cute seeing them hiding in the grass."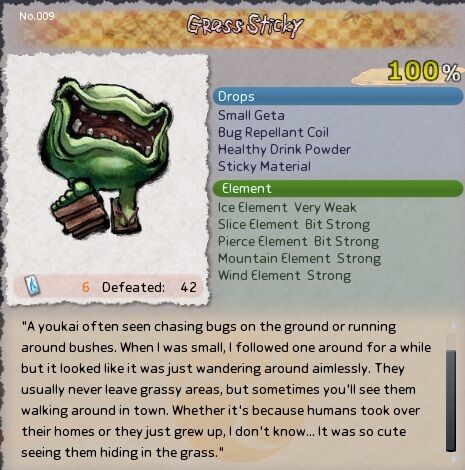 Like all other stickies, this one has fairly obvious attack patterns, and will carry out one of the following actions:
Geta Kick

Stickies will sometimes throw their shoes (getas) at you, kicking them off one of their feet. This is their most damaging move, and is considered to be a long ranged, dodge-able projectile attack.

Bite

Stickies like to bite! despite being weak, this attack can still do some damage.

Headbutt

A small quick attack meant to inflict moderate damage. Stickies often have anti-flinch as they initiate this attack.

HP Recovery

Most of the time, stickies will not cast this spell. But when they do, they will receive a buff that repeatedly heals them for 40 hp a second, and will also begin pulsing between their original colours and green. Kill them before they can heal up!
Community content is available under
CC-BY-SA
unless otherwise noted.