Bestiary Entry 016:Edit
Shizuka's Bestiary:
Edit
"A fallen warrior searching for the other part of its soul became a youkai and lingered in the world of the living, wandering aimlessly searching for the reason they died. Rather than the burning hatred of a grudge, they seem entirely preoccupied with a solemn sense of melancholy. While generally quiet and somewhat clumsy, there are times when their emotions get the better of them and they go berserk."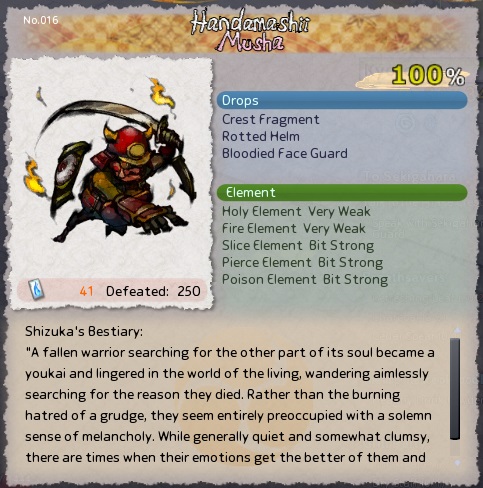 Variation of Hangon MushaEdit
Hangon Musha
Edit
Nature: Soul
Dungeon: Kishinden, Cave of Dreams 2F, Three Deity Cave 2F, Chinji Cavern 1F, Genbu Temple 1F, Oonaobi Shrine Entrance, Kyoukotsu's Den, Nishidera, Mount Kurama (Halfway), Nether Singlesword Forest 1F, Central Koshi-no-Shiraen Entrance, Forest of Humanity, Near Gouriki's Meeting Point, Echigo Estate B1, Marunouchi Sewer Pipe #3, Assault! Aragami Magma, Saturday - Defiled Orb of Dark Night, The Festival Space Seal, 闇冥の森 奥地
Field: Sekigahara, Nether Sekigahara
Aramitama: Daybreak, A Chance Meeting Stage 25, Juncture Stage 65
Hangon Musha (Eastern)
Edit
Hangon Musha (Western)
Edit
Community content is available under
CC-BY-SA
unless otherwise noted.