Nokogiri Samehada - Severance
Category
Odachi

Level Requirement

108

Rarity
Gold

Attack Range

6394 ~ 7436
(Grade 100)
Base Durability
1500
Enhanceable?
Yes
Innate Effects
■Slice Element+20
■Fire Element+30
■Rain Element-10
■Impact Element-5
■Pow+3
■Critical+5
■P. Atk Spd+7
■Rank 5+ Oodachi Skill Force+10%
Repairable?
Yes
Innate Skills
None
Tradable?
Yes
Obtained From
None
Recipe From

♦Alluring Caverns - Inugami
♦Mine of Delusions - Jorou Spider
♦Onimatatabi Island - Atake
All Difficulty (1-5 players)

Reward From
None
Selling Price
349,980
Crafted From
►Nokogiri Samehada +30
►Cereluean Gem x1
►Scarlet Gem x1
Quest Reward
None
Can Be Smithed Into
♦L. Catastrophe
"A Samehada that's become even rougher and more jagged! It's really just a big saw now, isn't it? How did it get this sharp, anyways?"
Weapon Animation
Edit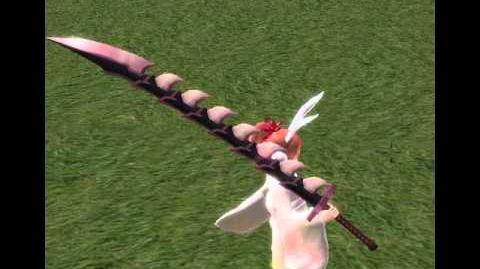 Community content is available under
CC-BY-SA
unless otherwise noted.