Omen of Doom CROSS
Category
Spear

Level Requirement

108

Rarity
Gold

Attack Range

5757 ~ 6379
(Grade 100)
Base Durability
1500
Enhanceable?
Yes
Innate Effects
■Lightning Element+40
■Pierce Element+40
■Vit+24
Repairable?
Yes
Innate Skills
●Ougi Purple Lightning Rain - VI
Tradable?
Yes
Obtained From
None
Recipe From

Lamenting River: Headwaters All Difficulty (1-5 players)

Reward From
None
Selling Price
666,666
Crafted From
►Omen of Doom STAR +20
►Shivering Wind x1
►Demon Overlord's Chaos x2
►Spellbook of Rage x1

Quest Reward
None
Can Be Smithed Into
♦L. Omen of Doom
"A strangely shaped spear that uses parts of Satan's foully sharp wings. A keening wail, certainly not of this world, is heard every time this weapon is swung. No way I want to be anywhere nearby when it's used..."
Weapon Animation
Edit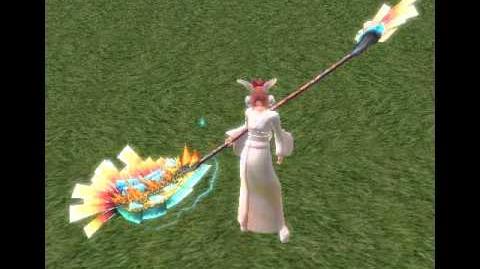 Community content is available under
CC-BY-SA
unless otherwise noted.