Bestiary Entry 023:Edit
Shizuka's Bestiary:
Edit
"Rebels against kappa society who found solace in dyeing their hair and wearing accessories to set themeselves apart. However, the path of an individual is a lonely one, so they banded together to attack others... It's said they were attracted to the smell of cucumbers so they raided a village and made off with the farmer's cart, but then got lost in the woods and eded up climbing the mountain. They're Kappa, so they're pretty strong, but it doesn't look like they're all that smart."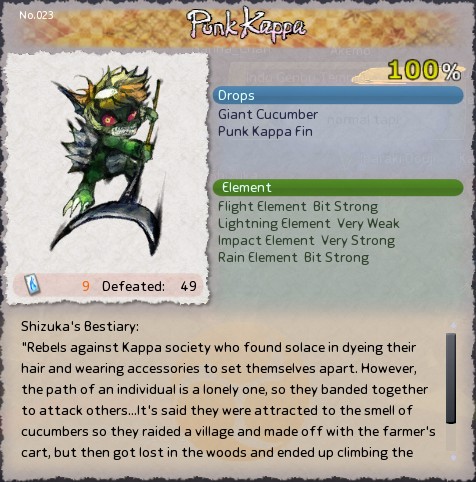 Variation of Punk KappaEdit
Punk Kappa
Edit
Nature: Spirit
Dungeon: Daiku Cave 2F, Hosuseri Shrine 1F, Seiryuu Grotto 1F, Cave of Nakisawame 1F, Well of Five Virtues, Sekiyou Forest, Bare Hand Cave, Burial Mound of the Ethereal, Nether Bare Hand Cave 1F, Nether Inaki Woods, Central Koshi-no-Shiraen Entrance, Forest of Humanity, Old Hokurikudo 3rd Line, Jellyfish Cave 1F, Marlin's Den, Warabizuka, Assault! Crag Gargoyle
Aramitama: A Chance Meeting Stage 43, Stage 97
Community content is available under
CC-BY-SA
unless otherwise noted.