Bestiary Entry 008:

[

]
Shizuka's Bestiary:
[
]
"A youkai often seen in or near swamplands. They're usually quite docile, provided you don't intrude on their territory. They swarm their enemies with frightening speed and overwhelming numbers, dragging them to the bottom of the swamp, never to be seen again... It seems that people in the past feared this and did everything they could to fill in any swamplands they encountered. A pity, they're pretty cute when they're not agitated."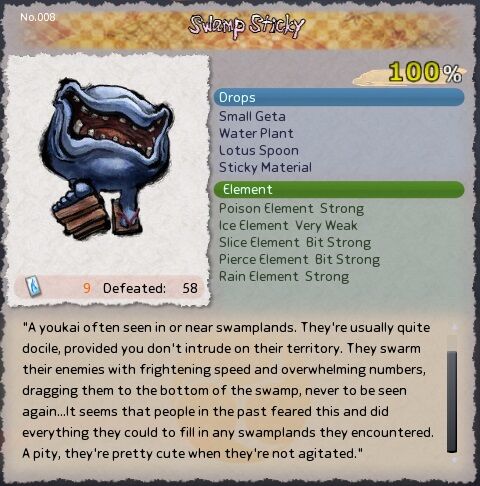 Variation of Swamp Sticky

[

]
Swamp Sticky
[
]
Other Variation

[

]
Swamp Sticky
[
]
Attack Patterns

[

]
As with the other stickies, this one has fairly obvious attack patterns, will carrying out either of the following actions:
Geta Kick

Stickies will sometimes throw their shoes (getas) at you, kicking them off one of their feet. This is their most damaging move.

Bite

Stickies like to bite! despite being weak, this attack can still do some damage.

Headbutt

A small quick attack meant to inflict moderate damage. Stickies often have anti-flinch as they initiate this attack.

HP Recovery

Most of the time, stickies will not cast this spell. But when they do, they will receive a regenerative buff healing them 40 hp a second, indicated by a pulsation of colors, flashing between their original colours and green. Kill them before they can heal up!