"A youkai that lives near intersections. From long ago, it's been said that crossroads are intersections between this world and the next, which may be the result of people being killed by these creatures. Tsujigami tend to attack indiscriminately regardless of the location; all you see is a flash of their sharp little eyes before they attack. Slasher incidents near intersections are almost always attributed to the Tsujigami... they're really scary."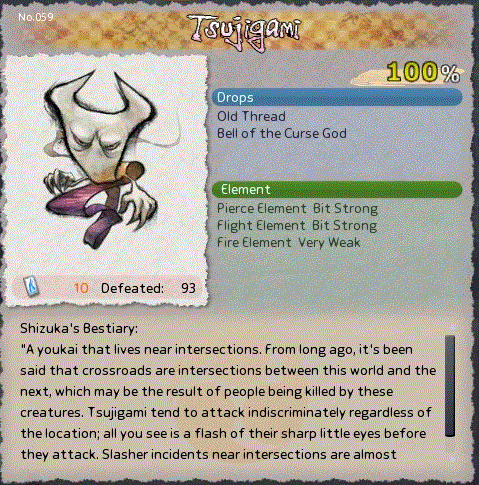 Nature: Spirit
Dungeon: Nishidera, Shinoda Forest, Mount Kurama (Peak), Sekigahara Decisive Battlegrounds: East, Sekigahara Decisive Battlegrounds: West, Inaki Woods, Nether Singlesword Forest 1F, Secluded Forest, Grand Forest, Momiji Well, Plover Pit 2F, Echigo Estate B1, Warabizuka, Assault! Crag Gargoyle, Golden Weapon Hunt Youen
Field: Nakasendo, Sekigahara
Aramitama: A Chance Meeting Stage 68, Juncture Stage 10, Stage 17
Community content is available under
CC-BY-SA
unless otherwise noted.